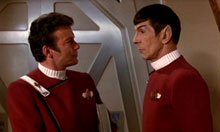 From
the Guardian's My Favourite Film series
(which has been most enjoyable).
I particularly like this paragraph, which speaks to me about my life:
If Star Wars is spiritually akin to

Top Gun

– Tom Cruise in jackass aviators blasting around in fighter jets – then Star Trek, here in its most dashing manifestation, is The Hunt for Red October: submarines, tactics, cantankerousness. It's a fundamentally naval representation of life in space, with all that entails: formality and

cryptography

and bold decisions taken from a seated position. It's about defeating intellects more than evil – about saving things, not destroying them – and the needs of the many outweighing the needs of the few, or the one.