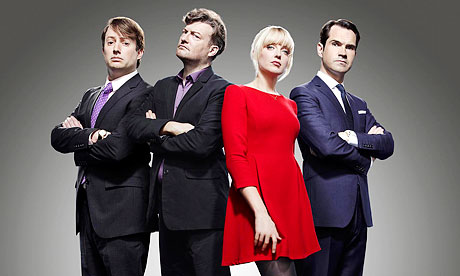 Instead, this from Channel 4.
Look, I know why they've dropped the Daily Show from More 4.
I know it's because the ratings aren't high enough for what they've been paying for it (which slightly makes me wonder why they don't just put it on the more prominent Channel 4 station instead of continuing to tuck it away on More 4, but whatevs). That doesn't stop me feeling irritated when I read
something like this (from the Guardian)
:
The hope, at the channel also responsible for Bremner, Bird and Fortune, is that it will become a UK equivalent to The Daily Show, where leading figures such as Barack Obama feel comfortable sparring with Jon Stewart.
and thinking "just to be sure it becomes a UK equivalent to
The Daily Show
, we've cut
The Daily Show
back to once a week to ensure that it's harder to make direct comparisons between the two."
I also wonder about the wisdom of basing your hopes for the future of a show on the ratings it got during a particularly high profile election night. Yes, 1.6 million people watched your show on election night. That's because people, particularly 24-hour-news-cycle generation people, like to watch live election results come in, and many of them thought they'd rather watch it fronted by comedians than Jeremy Vine. But will that translate to regular weekly viewing?
Most of all though, will this programme be any good?
The trailer is poor,
but of course it's hard to trail a live show because you don't actually have any footage yet. I would like it to be good. I wasn't keen on the election night version, which seemed to have a lot more titting about than actual coverage, but maybe that wasn't a great indicator. The network is apparently throwing everything it has at the show, so let's hope some of it sticks.
I am also heartened by this quote from David Mitchell:

I think too much of political journalism is thoughtlessly scrutinising," argues Mitchell. "It's always about contradicting the thing they've just said and crucially finding the difference of opinion they may have had with someone else they work with. Apparently, that's what you get 1,000 points for.
This also bugs me about political journalism, and if anyone could start introducing a new, non-combative interview style, I would welcome that.
Meantime, we're buying our
Daily Show
from iTunes, just like I've resorted to buying
Downton Abbey
from iTunes (RTE doesn't have it on its web service and my Sky box has no way of learning that if I recorded all of
Little Dorrit
and
Upstairs Downstairs,
hey, maybe I'd like
Downton Abbey
as well ). If this keeps up, I'll just start getting all my telly from iTunes and do away with my satellite dish entirely.
EDITED TO ADD:
The actual show was alright in the end, I thought, although it needs quite a bit of work to make it actually good. I was surprised to see that out of the four presenters, I liked Jimmy Carr best and if I had to pick one of them to be the British Jon Stewart, I'd pick him. Who'd have thought, eh?